SSLine Voice Activated Audio Recorder
Brand: SSLine
Hardware Interface : USB
Format: WMA, WAV, MP3 Audio
Storage Capacity: 32 GB
LPONGPOCUI 128GB (1600 Hour) Audio Listening Device
Brand: LPONGPOCUI
Connectivity technology : USB
application: Alarm
Item weight: 20 Grams
SpyCentre Mini Voice Recorder Keychain
Brand: SpyCentre Security
Connection: Micro-USB
Item Weight: 1 Pounds
Format: MP3 Audio
Spy voice recorders are always handy, especially if you want to document conversations discreetly.
You can gather crucial evidence or record meetings without drawing too much attention from your co-workers.
If you're looking for the best spy microphones on the market today, we got you covered!
We reviewed several brands and ended up with the 8 top choices.
What Is a Spy Microphone and How Does It Work?
A spy microphone is a device commonly used to record audio recordings discreetly.
Such a device is usually small or disguised as a common everyday object (i.e., a USB flash drive).
Some spy microphones can be used as long-distance recording devices, while others can only pick up short-range sound sources.
The 8 Best Spy Microphones in 2023
1. For the Car: Mini Voice Recorder Keychain Spy Listening Device
Top Discreet
Features:
Brand: SpyCentre Security
Hardware Interface: USB
Microphone Form Factor: Built-In
Format: MP3 Audio
Item Weight: 1 Pounds
The Lawmate car key digital voice recorder is an ingenious form of voice recorder for your car. This professional-grade voice recorder can perform 10 hours of continuous recording with a 2-hour charge. You can also set it up to voice-activated mode to SAVE battery life and extend it to 50 hours.
This post may have affiliate links and as an Amazon Associate we earn from qualifying purchases.
A voice-activated recording device will only operate when the recorder detects a sound source. Hence, it can help in saving storage space and battery life.
Specifications:
50 hours standby mode/voice-activated mode
10 hours of continuous recording
2 GB internal memory, up to 35 hours recording duration
MP3 audio format
Connection via a micro USB cable
Compatible with macOS and Windows OS-based devices
40-feet pick-up range (in optimal conditions)
Main Features:
Voice-activated mode
Continuous recording mode
Audio playback of recorded files
Fast charging
Can download audio recordings on Mac and Windows
Why We Like It?
We like this mini recorder for its voice activation feature, versatility, and long battery life. Plus, you can easily listen to your audio recordings directly from the device.
PROS
Long recording time
Can be voice-activated to save battery life
Pick up sound sources in a wide range
Users can listen to audio files on the device
Our Conclusion
If you're looking for a spy recorder for your car, Lawmate is a good choice! No one will ever suspect this key ring as a spy recorder.
2. Wifi: Mobvoi Mini Digital Voice Recorder
Features:
Brand:DIDIJIN
Hardware Interface: USB
Microphone Form Factor: Built-In
Format: MP3 Audio
Item Weight:4.6 ounces
The DIDIJIN records sound clearly with its dual-mic noise-cancelation technology. It can reduce background noises you don't want to hear in your recordings. It also features an transcription, which is handy when transcribing your recordings.
This post may have affiliate links and as an Amazon Associate we earn from qualifying purchases.
It enables FAST FILE TRANSFER with its Wi-Fi connectivity. You can move 1-hour recordings to other devices in a minute!
This mic can hold up to 500 hours of recording with its 64 GB capacity. This device will also last you up to 72 hours of continuous recording and 40 days on standby.
Specifications:
Wi-Fi, Bluetooth, and OTG connectivity
500 hours of storage capacity
72 hours of continuous recording
300mAH battery power
MP3 audio support
Main Features:
Dual-mic noise-cancelation
High-speed data transfer
Large storage
Long battery life
Supports audio-to-text transcription
Why We Like It?
We like this device for its HIGH-SPEED TRANSFER. It's contrary to other devices that take a long time to move the files to a different device. This is indeed convenient.
PROS
Minimize background sound
Large storage and battery capacity
Has audio-to-text transcriptions
High-speed transfers
CONS
Transcription software can be buggy
Our Conclusion
Mobvoi is a great choice if you wish for convenient transfers and a high-quality audio recording device.
3. Long-Distance: SSLine Voice Activated Audio Recorder
TOP PICK
Features:
Brand: SSLine
Hardware Interface: USB
Microphone Form Factor: Mini
Format: WMA, WAV, MP3 Audio
Memory Storage Capacity: 16 GB GB
his voice-activated recorder from SSLine activates once it detects a sound source at 50 dB and will stop recording when the source goes off. It ensures that the 16 GB storage capacity will be utilized to a FULL EXTENT.
This post may have affiliate links and as an Amazon Associate we earn from qualifying purchases.
Aside from this recorder's enormous internal memory, it's also ideal for recording outdoors and covering long distances.
Its battery life also stretches up to 15-20 days on standby and 360-500 hours of recording duration.
Specifications:
16 GB internal memory
15-20 days standby time
20 Hours
OTG connection via a type C or micro USB port
6-8 hours charging time
WMA, MP3, WAV audio formats
Main Features:
Voice-activation mode upon detection of 50 dB sound source
Noise-canceling for minimal background noise
Ideal for outdoor and long-distance recording
Easy transfer and file management on Android and iPhone
Has a headphone jack to listen directly from the device
Why We Like It?
This voice-activated recorder saves a lot of on-board storage for important recorded files. Plus, it can minimize background noise when recording at long distances.
PROS
Maintains good sound quality with noise cancellation
Allows for voice-activated recording
Large storage capacity and battery life
Can record in long distances
CONS
Long charging time
Not weather-resistant
Our Conclusion
If you wish for audio recorders that allow you to record conversations from afar while maintaining good audio quality, we highly recommend this mini voice recorder from SSLine!
4. Wireless Bug: GSM Network Audio Listening Device
Features:
Brand: LPONGPOCUI
Colour:Gray
Connectivity technology: USB
Supported applicatioN: Alarm
Item weight: 20 Grams
This wireless bug from LPONGPOCUI can be hidden in your pocket while allowing you to live-monitor the surroundings from any phone.Yes, it also doubles as a recorder and not just a mic. One button to turn on recording, start recording when the indicator light shows blue color.
This post may have affiliate links and as an Amazon Associate we earn from qualifying purchases.
Wireless bugs or microphones are also pretty helpful, especially when you aim to transmit the sounds or conversations to another person.
They're called bugs because of their relatively small size. And the person you're spying on never knows it's there.
Specifications:
450 mAH battery
1-2 days standby time
1-2 hours on air
24 hours of recording
Main Features:
Live monitoring/listening
Support system for major networks (USA, Europe, and other countries)
Automatically activates when a 40dB sound source is heard
Clear recordings and overall sound input with a 16-feet range
Why We Like It?
It's rare to see a recording device that also serves as a handy tool for live monitoring. This digital recorder can be the same recorder you'll use whenever you need to stay on air secretly.
PROS
Allows for live monitoring
Good audio input within a 16-feet range
Activates when 40dB sound is detected
Supports major networks in different countries
CONS
Short battery life
Needs a 32 GB micro SD card for recording
Our Conclusion
If you need to closely monitor an event or person in real time, this wireless GSM bug is the perfect device for you! It also doubles as a digital voice recorder for recording purposes.
5. isekurity Spy Glasses Camera and Mic
Features:
Brand: Rip&Ghieo
Colour: Black
Connectivity technology: USB
Flash Memory Type: MicroSDHC
Special Feature: Ultra Long Endurance Battery, Sunglasses & Optical Lenses
Model Name: G5s PluS
Aside from the usual audio files you gather with your spy microphone, you can also do video recording with spy glasses. The Rip&Ghieo Touch Control Video Sunglasses is one of the best devices to start recording secretly at 1080P.
This post may have affiliate links and as an Amazon Associate we earn from qualifying purchases.
This digital recorder will last you up to 300 minutes with the 2 batteries that look like USB sticks.
It's also good that the power source included in this device is RECHARGEABLE batteries, making it cost-effective.
Specifications:
Up to 64GB external storage support
2-inch screen size
Dual batteries (410 mAH each)
1080p resolution
Main Features:
Interchangeable optical and sunglasses lenses
Wide angle lens
HD 1080p camera
One-touch control
Why We Like It?
We particularly like this hidden recorder for its ability to record audio and video footage at the same time. This goes beyond the limit of what an ordinary audio recorder offers.
PROS
Good video resolution
Responsive one-touch control
Provides a good viewing angle with wide lenses
Can be used as optical or sunglasses alternately
CONS
Automatically rewrites previous recordings when storage is full
Battery capacity could be longer
Our Conclusion
If you're on a budget yet want functional spy glasses for video recording, isekurity is our best pick. It's a good addition to your audio recorder to document the surroundings discreetly.
6. Parabolic: HAUSBELL Monocular Sound Amplifier
Features:
Brand:HAUSBELL
Colour: Black
Item Weight: 700 Grams
Objective Lens Diameter: 200 Millimeters
Focus Type: Manual Focus
Power Source: Battery Powered
This parabolic sound amplifier from HSTD enables users to listen at a distance! It allows you to reach a sound source up to 300 ft. and observe the surroundings with an 8x zoom monocular. Additionally, it has a 3.5mm jack and an included headset for a better listening experience, as it REDUCES unnecessary background noise within the vicinity.
You can also insert an SD card on the recording device, so it doubles as a recorder apart from merely being a listening gear.
With this, you'll also be able to playback the recordings captured straight from the recorder.
Specifications:
8x magnification
9V replaceable battery
200mm pot diameter
Captures sound within a 300-feet range
Main Features:
Built-in 8x zoom monocular
Noise cancellation
Double as a recording gear
Enables recording playback
Why We Like It?
We like this not just as a recording tool but also as an excellent long-distance listening device. Plus, it allows you to observe the surroundings with a monocular.
PROS
Enables recording playback
Clear listening as far as 300 ft.
Allows for sound recording
Enables observations from afar via the monocular
CONS
Low internal storage capacity
Our Conclusion
This brand offers a great LONG DISTANCE listening device that doubles as a recording tool. Plus, it's a great device if you like observing from afar.
7. Laser: Spectra M+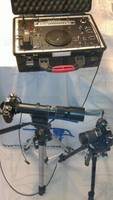 Features:
Functionality: Uses an Invisible Infrared Laser Beam
Range: Clearly listens within the 400-meter
Focus Type: Optical aiming system
Recording System : Integrated
An even better listening device you should get is a laser mic. But, unlike most spy microphones previously discussed, this one is huge. If you're looking for the best spy microphone for the job, the Spectra M+ is a great choice!
With this, you can listen to sound sources up to 400 meters from afar. It also IGNORES obstacles that may hinder your listening.
You can enjoy 100 hours of continuous recording and listening with this device with its batteries. But you can also power it up with a DC adapter straight from the plug.
Specifications:
Double signal output
Multi-band tonal signal (50Hz to 20kHz)
Multi-band equalizer with digital sound processing
Wireless radio receiver
Infrared laser beam
Main Features:
Clearly listens within the 400-meter range
Separate transmitter and receiver modules
Innovatory beam modulation for undetectability
Optical aiming system
Integrated recording system
Encrypted radio links for internal communications
Why We Like It?
Even if it's not as discreet as the other audio recorders, it still offers a TOP-NOTCH listening experience. Plus, it can record sounds too!
PROS
Great for long-distance listening
Clear audio despite obstacles
Enables audio recording
Large battery capacity
Our Conclusion
If you're planning to listen to someone without going near the target, the Spectra M+ laser mic is the best device for you! It offers quality audio and important features for spying.
8. Hidden Mic Detector: JMDHKK Anti Spy Detector
The JMDHKK Anti Spy Detector is the tool to help you with that. It can detect spy devices, like bugs, hidden cameras, and GPS trackers.
Specifications:
1MHz to 8GHz frequency range detection
>73dB dynamic range detection
< 0.03 mV detecting sensitivity
1.2GHz: 15 square meters detection range
2.4GHz and 5.8GHz: 10 square meters detection range
2G/3G/4G mobile frequency bands: 15 square meters detection range
Built-in 3.7V 1000mA Lithium Polymer chargeable battery
2.5 hours charging time
5 to 8 hours of continuous detection
Main Features:
3-in-1 counter surveillance tool (RF signal detection for wireless bugs, magnetic field detection for GPS trackers, and hidden camera lens finder for hidden wired and wireless cameras)
Radiowaves and magnetic field detection
Adjustable range and sensitivity
LED light indicators for source proximity
Vibration alarm starting from medium signal strength
Why We Like It?
This device lets you detect spying devices that could intrude on your privacy. It's also pretty handy since it's relatively small in size.
PROS
Can detect different spy devices
Has LED light indicators and alarms to warn about proximity
Adjustable range and sensitivity to cater to the environment
CONS
Unable to show the device it detects
Needs a strong signal for accurate detection
Our Conclusion
It's important to ensure your safety in unfamiliar places. Hence, having this anti-spy device readily available will help protect you from spying.
Different Types
Spy mics can come in several forms and shapes. By that, we mean that these devices can be disguised as ANYTHING. Here are a few types of mics for spying:
GSM Bugs – allow users to listen in real-time with a SIM card
Voice recorders – allow continuous recording and take different forms (watch, flash drive, pen, etc.)
Wall contact – can listen through thick surfaces, like walls and windows
UHF – allows users to listen within a 100-yard range
VHF – can transmit and receive sound signals
Unidirectional microphones – capture audio from a specific direction
How to Find a Hidden Mic (In-room/House/Car)
Special devices are made for counter-surveillance. This allows you to spot a hidden voice recorder within the vicinity.
However, if you don't have such kinds of tools, you can follow these steps to inspect your environment:
Listen for subtle clicking and buzzing sounds.
Investigate electronic devices and furniture.
Listen for interference when making calls.
Search for odd wifi names.
How to Use a Hidden Mic?
If you have a voice recorder, you must press the record button to start recording. Once the device stops recording, your files will be stored in internal or external storage.
For GSM bugs, you must insert a SIM card in the device before you can start listening. You can call the phone number inserted on the bug to live monitor.
On the other hand, unidirectional mics need you to point directly toward the sound source for the device to pick it up.
How to Install in a Trailer?
Mini mics and recorders are easy to install in a trailer or any vehicle due to their size. Plus, they're disguised as everyday objects.
In installing a hidden mic, you need to anticipate where your target would most likely be in the trailer so you can place it in the RIGHT PROXIMITY for proper audio detection.
Additionally, you should couple it with other similar-looking objects to conceal it properly.
Make sure that before placing the mic, it's fully charged and you enable the voice-activated recording.
Buying Guide
Now that you know the different kinds of mic you can get, let's walk through the factors to consider when choosing the best spy microphones:
#1 Quality
The first thing you want your mic to do is to deliver TOP-QUALITY audio. This ensures that what you hear is not muffled.
Noise cancellation features plus the ability to cover a wider range means that the audio recorder can produce clear sound with minimal hissing.
Apart from that, you must ensure that your mic is DURABLE since you will leave them in random places.
#2 Voice Activation
A digital voice recorder with a voice-activation feature is probably one of the most intuitive.
This ensures that your device only records when it picks up sound, leaving you room for more important files.
#3 Battery Life
Another thing to consider is the battery. If you wish to do continuous hours of recording, a big battery capacity is a must-have.
This ensures you have enough juice to last the WHOLE DURATION of your recording session. You'll never miss a beat if your recorder has the right amount of life!
#4 Storage Space
Your device's internal and external memory will tell you how much you can record.
Some devices AUTOMATICALLY rewrite stored files when the memory is full. If you can't afford to lose your recordings, it's better to consider ample storage.
#5 Size and Form
Having the appropriate size and form will conceal the device properly. While it may take the form of different objects, you must choose those that can naturally blend in.
Getting recorders that are relatively small is also helpful. But, if you're prone to losing things easily, you might need to re-think this criterion.
#6 Compatibility
Compatibility refers to the audio format and connection options supported by the recorder. Try to see if you can easily transfer and read your files.
Some devices enable micro USB, OTG, and Wi-Fi connections for convenience. This helps transfer the recordings to a USB flash drive, phone, or computer immediately.
Conclusion
You can definitely purchase your spy mics for professional or personal use. It's a great handy device if you want to record or listen discreetly.
There are several quality products that would specifically cater to your needs. So, make sure to choose what suits you best.
CAUTION: Recording conversations secretly is illegal under the Federal Wiretap Act.
FAQs
How Do You Know If There's a Mic Hiden in Your Car?
You can detect a hidden mic in your car with a counter surveillance device, which detects radio signals.
You might also hear weird buzzing or clicking sounds within the closed space or hear interferences when making calls inside the car.
Where to Buy?
You can buy spy microphones on e-commerce sites like Amazon, AliExpress, and eBay.
How Do You Power a Mic that has been hidden?
There are several ways to power a hidden mic. Commonly, you need to charge the device until the blue light indicator appears.
What Type Is Often Hidden in Actors' Clothing?
The type of mic you commonly see in actors' clothing is a lavalier — a body mic used in standard media performances.
How Can You Jam a Hidden Mic Signal Without a Device?
You might need the help of an audio jammer to produce ultrasonic signals, which result in inaudible sounds.
How to Find a Hidden Mic With a Cellphone?
If you want accurate scans, you can download apps on your Android and iOS devices for such purposes.
What Does a Hidden Mic Look Like?
Hidden mics can look like anything. It can be a coin, pen, or key. But, commonly, it takes the form of a flash drive.